Video Recording Option VIDEO3D
Introduction
 Video Recording Option VIDEO3D is an option of Spectratech OEG series. It operates by being incorporated into each OEG series application software. A movie from the camera can be recorded at the same time as the hemoglobin change signals are measured and recorded. 3D topography of the oxyhemoglobin change data in real time also can be displayed.
 When the hemoglobin change data is read from a record data file and displayed, the movie and the 3D topography can be reproduced synchronously. The reproduced 3D topography image, etc. can be stored as a video in WMV format, or a still image in JPEG format.
 By using this VIDEO3D option, it is convenient that the situation, etc. of the test subject can also be confirmed at the same time when the data after recording is evaluated.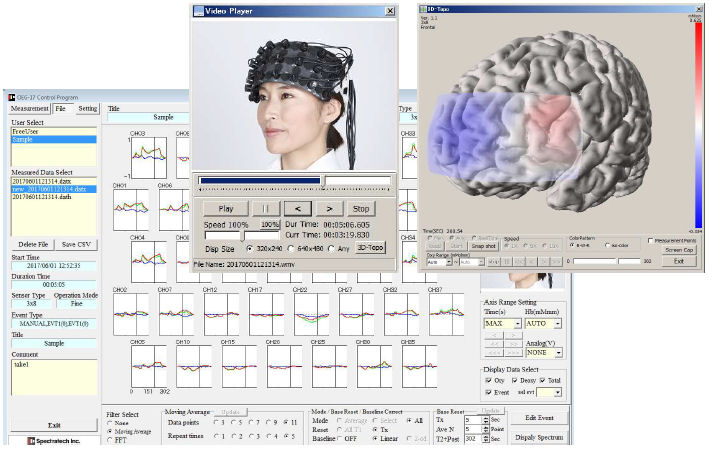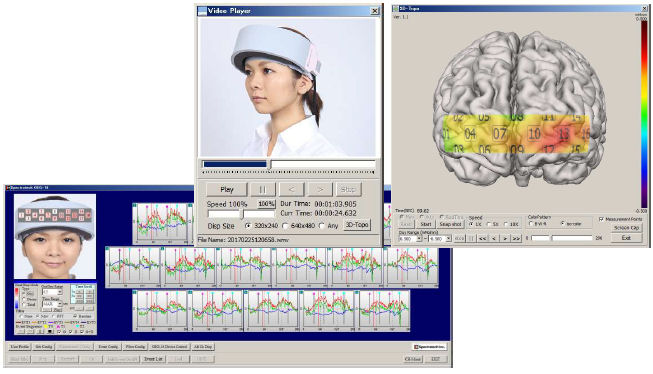 When measuring

When reproducing

Model number
Spectratech OEG-17H-VIDEO3D・・・・・・・・・・・ for Spectratech OEG-17H
Spectratech OEG-16H-VIDEO3D・・・・・・・・・・・ for Spectratech OEG-16H
Spectratech OEG-SpO2-VIDEO3D ・・・・・・・・・ for Spectratech OEG-SpO2
Spectratech OEG-16-VIDEO3D ・・・・・・・・・・・・ for Spectratech OEG-16
Configuration
USB connection WEB Camera ・・・・・・・・・・・・・・・・・・・・・・・・・ 1
USB extension cable (5m) ・・・・・・・・・・・・・・・・・・・・・・・・・・・・・ 1
Video Recording Option software CD-ROM ・・・・・・・・・・・・・・ 1
User manual ・・・・・・・・・・・・・・・・・・・・・・・・・・・・・・・・・・・・・・・・・ 1
Connection method

 The included USB camera is connected to a USB connector of Windows PC on which OEG Application to control Spectratech OEG-17H is running using the included USB extension cable (5m). Since the USB camera is Windows compatible, no device driver is necessary, and it is recognized automatically when it is connected.
Operating environment
・
This option can be used on a PC, at least with Microsoft Windows7, Windows8 or Windows10, 2 USB ports, monitor in 1,368x768 pixels, Intel i5 CPU, and 4GB main memory.
・
PC with i7 CPU and/or Graphic processor (GPU) will provide a more comfortable operation.
・
It is recommended that HDTV (1,920x1,080 pixels) monitor or above is used when one monitor is used, and two monitors including 2nd external one are used when less HDTV is used.
・
A recorded video file consumes a lot of hard disk capacity, so the hard disk capacity should be checked before starting a long-time recording.
 Rough standard: 10MByte/3-minute recording
・
The recording and reproducing with a camera other than the included camera is not guaranteed.
Precaution
 3D topography display targets only at the oxyhemoglobin change data (ΔCoxy.L), not at the deoxyhemoglobin change data (ΔCdeoxy.L) and total hemoglobin change data (ΔCtotal.L). And, it just shows the blood flow change which corresponds to an approximate regional position, not at an exact position. So please use it for observing the blood flow change at an estimated region.