5) Ultra-high sensitivity technology
Optical sensor technology with high sensitivity and high SNR (Signal to Noise Ratio) is required to measure all area of head. Spectratech had been promoting basic development for new optical detector unit for above requirement and also miniaturization. Finally, we completed new detector unit with two technologies.
1) APD (Avalanche phot diode) is used to improves sensitivity around 10 time higher than Silicon phot diode to capture faint light signal.
2) ITO (Indium Tin Oxide) film drastically improves noise performance of the sensor. To put this film as transparent conductive film at input window of the sensor unit for the first time with fNIRS system makes it possible to prevent external noise. With above two technologies Spectratech could release new detector unit that has ultra-high sensitivity and ultra- low noise with small size that is around a little finger.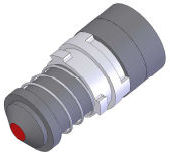 Light emitting unit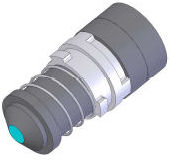 Light-receiving unit with APD and ITO film